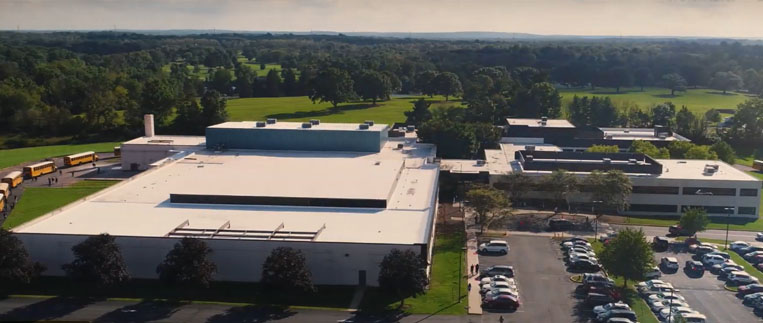 About CJCP
The mission of Central Jersey College Prep Charter School (CJCP) is to provide academic and social challenges and opportunities for students to attain the skills necessary for success in post-secondary education.

Our mission is delivered through a meticulously engineered educational ecosystem, where we purposefully nurture our students' intellectual, social, and emotional growth, as set forth in our comprehensive vision statement.
CJCP Vision Statement
At the Central Jersey College Prep Charter School, our vision is to create a dynamic and inclusive educational environment that embodies the principles of equity, excellence, and innovation. We are deeply committed to prioritizing student learning, delivering a rigorous college-preparatory curriculum, and pioneering adaptive solutions to address unprecedented and unique challenges, all while ensuring a lasting positive impact on our students' lives and the world. We provide opportunities to support students' growth as whole individuals through meaningful extracurricular activities and athletic pursuits.

Equity is the bedrock of our mission. We believe that every student, regardless of their background, deserves equitable access to educational opportunities. We actively work to dismantle barriers, creating an environment where all students can thrive and diversity is celebrated as a source of strength.

Excellence is our standard and our aspiration. We hold ourselves and our students to the highest expectations. By setting high expectations and providing the necessary tools and guidance, we believe all students may accomplish their full potential. We are dedicated to cultivating an environment where rigorous academics, critical thinking, and intellectual curiosity are celebrated, fostering a culture of excellence that is visible in every aspect of our school community.

We are resolutely focused on prioritizing student learning. We strive to create an atmosphere where curiosity is nurtured and a lifelong love of learning is instilled. Our educators are committed to tailoring instruction to meet the unique needs and aspirations of each student, empowering them to succeed academically and personally.

We are committed to delivering a rigorous college-preparatory curriculum. We equip our students with the knowledge, skills, and adaptability to excel in college and beyond. Our curriculum is designed to challenge and inspire, ensuring that our graduates are well-prepared for the demands of higher education and the workforce.

In today's ever-changing world, we embrace a future-focused mindset. We prepare our students to thrive in a world marked by uncertainty and rapid change. Our educational approach equips them with the critical thinking and problem-solving skills necessary to navigate the challenges and seize the opportunities of tomorrow. We prepare our students not only for college but also for life beyond, instilling in them the confidence to become innovative leaders and responsible global citizens.

We are dedicated to developing adaptive solutions to unprecedented problems. We recognize that addressing the issues of the future requires innovative and forward-thinking approaches. We empower our students to become resilient, adaptable, and visionary leaders who can effect long-term positive change. We embrace challenges as opportunities for growth and development. We encourage our students to push boundaries, question assumptions, and discover their own potential through hands-on experiences and intellectual exploration.

Above all, we aspire to inspire. We want our students to be excited about their educational journey, to dream big, and to believe in their ability to make a positive impact on the world. We foster a supportive and collaborative community of learners that encourages our students to dream big, believe in their capacity to make a difference and contribute positively to society.

In summary, our vision for the Central Jersey College Prep Charter School is to be a beacon of educational excellence and innovation where equity is foundational, student learning is paramount, and college readiness is a given. We are committed to delivering a challenging, inspiring, and future-focused education that empowers our students to excel, adapt, and lead with purpose.
College Prep Curriculum
Over 18 AP Courses Offered

Over 10 Dual Enrollment Courses Offered through Raritan Valley Community College and Middlesex Community College

High School Courses Offered to Middle School Students

Evening and Weekend SAT Prep Courses Offered

All Middle and High School Courses Aligned with College Board Standards
Individualized instruction
Students are encouraged to take and placed in honors, Advance Placement, and college-level courses as deemed appropriate.

Remediation are offered for students who need extra help.
Increased integration of technology including smart classrooms, one to one Chromebook program, and electronic textbooks
Promotes self-learning and inquiry in an effort to ensure that students become life-long learners

Allows for flipped instruction

Helps track progress and growth, identify strength and areas of improvement, and design support services such as remediation
College entrance exam preparation
SAT/ACT preparation as a part of the daily schedule

Supplemental SAT/ACT prep courses on weekends
College and Career Counseling:
College admissions counseling

Career counseling

Scholarship search

Assistance with financial aid forms

Course selections guidance

College application assistance

College campus visits
Extracurricular Enrichment Programs:
College Mentorship Program

Competitive academic activities: Robotics, Science & Engineering Fair, Science Olympiad, Model UN, Geography Bee, Spelling Bee, Mathcount, Debate, etc.

Non-competitive activities: Clubs – Math, Games, Book, Photography, Red Cross America, Charity Club, etc.

Sport teams: Volleyball, Basketball, Soccer, etc.

Music: Band, Orchestra, Glee Club, etc.
CJCP also implements research-proven and field-tested instructional and organizational strategies including but not limited to low-student teacher ratio, small classroom sizes, supplemental instruction for remediation, and data-driven decision making. As a result, CJCP has earned many prestigious recognitions and awards by governmental and private institutes such as the U.S. Department of Education, New Jersey Department of Education, JerseyCAN and the U.S. News. Please visit our Awards & Achievements page for further details.
Dr. Namik Sercan
Chief Education Officer
732.302.9991 x1001
Central Jersey College Prep Charter School
101 Mettlers Road
Somerset, NJ 08873
Ph: 732-649-3954
Fax: 848-216-3183
Email: [email protected]